History
Since about 2007, I have been attempting to document and understand the 9/11 cover up – particularly in relation to the research of
Dr Judy Wood
. To this end, in 2009, I self-published a book/compilation of articles which I called
"9/11 Finding the Truth."
This compilation (now in its 3rd edition) can be obtained as a free download in various formats
, or in
a cost-price paperback
.
I have continued to write articles on this subject, as attempts have continued to "keep the cover up / muddle up" going. The purpose has mainly been to document, with related evidence, how the cover up has continued to evolve - to include a number of related areas.
Recent correspondence I have received has lead me to wonder whether we might even be "ahead of the game" – at least to some extent – as I may have been witness to an attempt to re-write history. At this point, it is not quite clear if this is the case, but I wanted to document some things now and if it turns out I am wrong, then so be it.
Facts
Regardless of any conclusions I may make in this article, the facts about 9/11 and the facts about those involved in helping to cover up those facts will remain the same. Facts such as those stated by Dr Judy Wood following her comprehensive forensic investigation of what happened to the WTC will not change- "The WTC towers did not burn up nor did they slam to the ground - they mostly turned to dust in mid air" will never change. The fact that Steven E Jones worked in a field of research that he and a colleague called "Cold Fusion" in the 1980's and he then worked in the field of 9/11 research from about 2005 onwards will not change.
Steven E Jones, 9/11 and Cold Fusion
I choose to mention these facts specifically because they are one of the keys to understanding the connection between the events of 9/11 and what some call "free energy" technology. I have been talking about these things, when any suitable opportunity has presented itself, since about mid-2007, when I first found out that Dr Steven E Jones had worked in the field of "
Muon
Catalysed Cold Fusion" – and that he had also worked for Los Alamos National Laboratories. I first joined Steven E Jones' and Jim
Fetzer's
"Scholars for 9/11 Truth" group in 2005/6 and I trusted Jones' research about "thermite." I knew nothing of his work in the field of LENR/Cold Fusion – even though I had followed some of the Cold Fusion saga back in the late 1980's, when it was ongoing.
One may write these facts off as some kind of weird coincidence, of no importance. However, what is important is the truth – and we can show that Steven E Jones has not always been truthful in his presentation of the facts. In the clips below, you will hear Dr Steven E Jones claiming that molten aluminium is silvery in appearance at all temperatures in daylight conditions. This statement by Jones is incorrect. You will hear Steven E Jones referring to "space beams" and "lasers and masers" in relation to Dr Judy Wood's research – which is an inappropriate and a disingenuous statement by Jones.
In the clip below, Jones states (as I mentioned earlier) that he and a colleague coined the name Cold Fusion. Confusingly, then, he also states that he told Martin Fleischmann (who developed the electrolytic process with Stan Pons) should not call his process "fusion". The truth is that Pons and Fleischmann soon
revised their conclusion that nuclear fusion was involved
: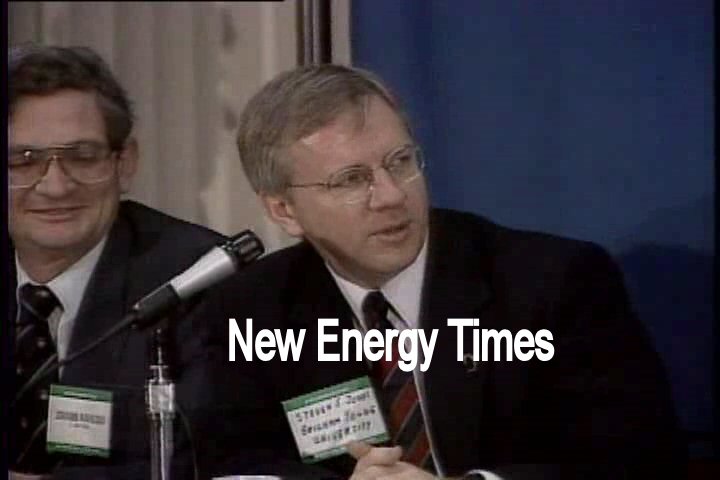 Is Steven E Jones Worried?
Caroline Louise and Scholars for 9/11 Truth
As "Caroline Louise" had talked about involving me in a "discussion" of some kind, I also wrote:
I decided to respond thus, as I felt she had ignored the evidence I sent:
Caroline Louise then responded:
The thing I must emphasise strongly is that I was not expressing a "point of view" – I was showing evidence (as I am here – just I have been doing, in similar ways, for over 7 years). "Evidence" is not a "point of view". Another oddity was that she had asked for Dr Wood's email address (dropping the title). I therefore responded thus:
Caroline Louise then responded:
Note that Caroline Louise said she has read everything on [Dr] Judy Wood's website.
So I replied:
Steven E Jones - "Read My Lips" on Cold Fusion
However, a few days later, I received a rather specific message from Caroline Louise, thus:
So I now knew that:
The signs were not good. Reading Karoline Leach's Wikipedia page (referenced above) I noted that she is
She replied:
I had been researching these topics for several years – arguably as many as 10, so I certainly wasn't "rushing to judgement." Here, she had either not bothered to check the dates on the evidence I sent her, or she was getting ready to mischaracterise what I had written.
In another email where I was asking the reasons for her writing to me she said:
Again, she refers to a "point of view". However, it is not a "point of view" that the truth and lies will always be polarised. I would then also like to observe how her Wikipedia page says:
She sent me a few more emails and in them, it became clearer that she was specifically focused on trying to re-characterise or re-package the evidence of Jones' role in Cold Fusion. For example, she queries what I wrote in earlier email:
"Want to hold NIST accountable?"
Summary / Conclusions
Here is a summary of the information I have collected here